Why do you need lights in your driveway?
A driveway is a long stretch of land that leads up to a building. There are many reasons why we need lights on the driveway. One of the most important point is that customers not only can use light to find the parking spot, but also can stop them from bumping into other cars or people.
A driveway light, also known as a pathway light, is generally installed at the edge of the road to illuminate the path. This type of light is often mounted on an existing pole or wall that is on the edge of the property. The pole or wall typically has a mounting bracket that need to be screwed into the side of it to hold the light.
Key Points to Choose the Best LED Shoebox Lights for Driveways
Parking lot lighting should be installed in such a way that it not only provides adequate illumination, but also does not dazzle the drivers. There are a few factors to take into consideration when buying a light.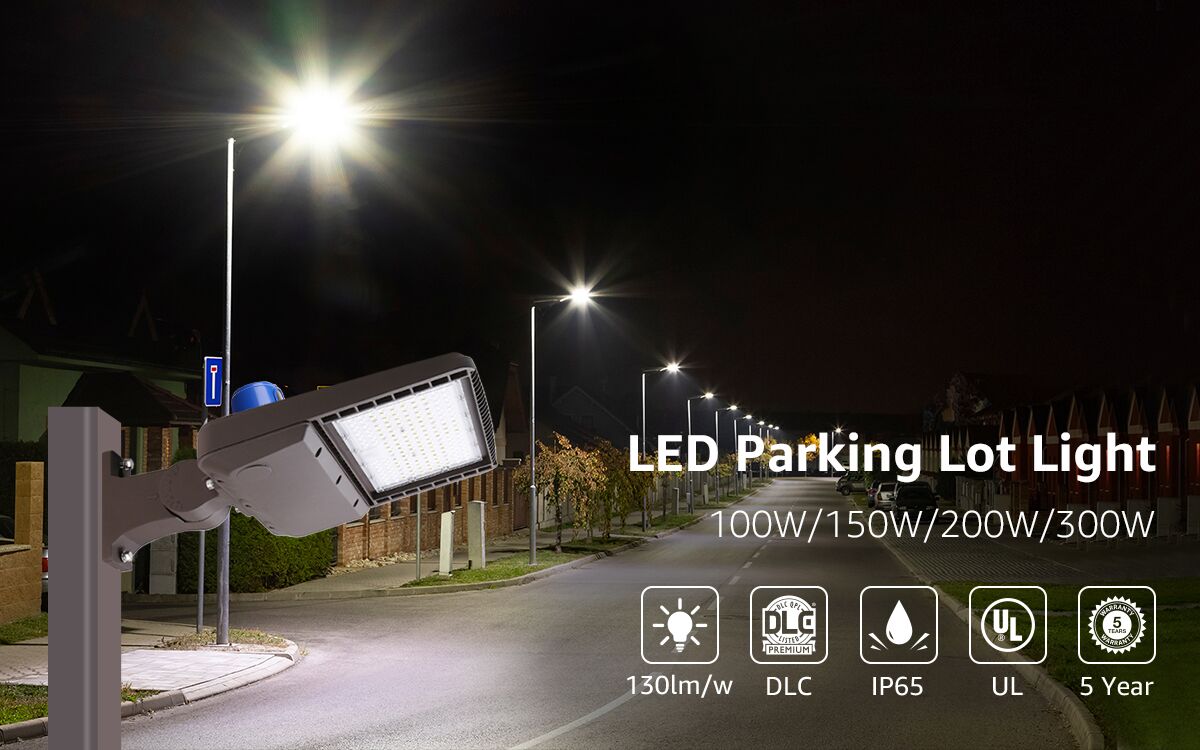 Consider the Energy Efficiency Metrics
What is the energy efficiency metric? Most people will answer with how many units of energy they use per unit of revenue, but these metrics only tell you about the total amount of money has been spent. The more important question is "How much energy are you saving, and how does it compare to your revenue?" Energy efficiency metrics are the measurements of energy consumption in relation to its use. They are used as a measure to determine if an energy-using process is economically efficient.
Lux Required for Lights in Driveways
There is no specific number of lux that is required for lights in driveways to be effective, but it depends on your needs. Usually the lights in driveways are not too bright, which means the light is bright enough to illuminate the night activity in the dark and not affect people's vision while driving. In a general way, the lights with around 30 or slightly less lux would be suitable.
The amount of light needed for a driveway depends on the size of the driveway and how many lights you have. If there are trees, or shrubs in your driveway, then you will need more light. The size of the driveway can be determined by measuring the length and width.
Anti-Glare
It is an imperative feature as glare can make the driver feel dazzled and put the safety of other drivers at risk.
Photo Sensor of Parking Lot Lights
A photocell is a device that generates an electric current when it is exposed to light and uses the energy from this current to power an electronic circuit.
Lepro LED parking lot lights offer photocell sensor controls to automatically power on and off the LEDs from dusk to dawn, making energy-saving a reality. If not required, we can additionally offer you a shorting cap to turn off this function.
Mounting Types of Light
There are multiple types of LED Parking Lot Light mounts, including the Pole Mount and the Surface Mount. A Pole Mount is installed on a pole that has an arm that extends out into the ground. The arm is then sunk into the ground and made to hold up a weight that balances the LED light. The Surface Mount is mount directly on the existing wall with U bracket or Trunnion bracket.
Light Distribution Types of LED Parking Lot lights
The light distribution type of LED parking lot lights is designed to provide adequate illumination for the parking lot, while minimizing the amount of light pollution that would result from other traditional lighting solutions.
Type I provides a good lighting for fixtures located mid-way up the driveway.
Type II is a slightly wider variation and is intended for installations where the fixture is positioned at the edge of the driveway.
Type III fixtures stand about 2.75 times the height of the mounting surface.
Type IV fixtures are asymmetric (where one light is taller than the other), and this effect creates a multi-directional flood of light, with little light falling behind the fixture. These floodlights also produce more rounded patterns than their Type III counterparts which push outwards rather than downwards.
Type V fixtures are omnidirectional lights. They distribute light in a uniform square or circle around the fixture.
After learning how to choose parking lights, now I want to introduce the LED parking lot lights from Lepro. There are four different power options: 100W, 150W, 200W and 300W. Now you can take a look and find one that is perfect for your driveway.